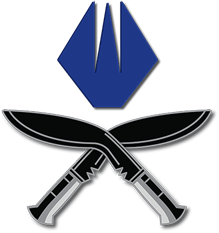 Windlass proudly brings to you a collection of multi-purpose knives which feature hand-forged, X46Cr13 high grade stainless steel blades that have been fully tempered in state-of-the-art computer controlled ovens. What does this mean? It means they are super tough and weather resistant and just about perfect for the great outdoors. Hardened to a Rockwell of 48°, they will "flex" in a cut and come back for more!
Knives are increasingly being pigeonholed as tools of violence. Our blades shatter the stereotype. Each of the eight knives we offer – though some historically have gained fame through war – are versatile implements that can be used for gutting game, filleting fish, starting a fire, and many other outdoor activities. They are quintessential survival tools for the great outdoors.
The blades are based on designs of historical swords. The hard rubber scales provide a strong grip for any condition, even with gloves. All come battle ready sharp from the factory and include a leather sheath.
The Windlass name guarantees quality. We ceaselessly try to offer products that are a blend of art and quality craftsmanship, and our knives are no different. Visually tasteful and reliable tools, they offer style and durability. So, don't delay. Check out this range of absolute beauties.